We are a global interpretation company that includes highly trained, professional and subject-specialized language interpreters – people who render spoken communication between languages.
Different Interpretation Services
Consecutive (speaker speaks, then interpreter interprets), or
Simultaneous (interpreter interprets while the speaker speaks).
Onsite with virtual location (On-demand with a video connection)
Pre-scheduled video interpreting
Onsite
ASL (American Sign Language)
VRI (Video Remote Interpreting for American Sign Language)
OPI (Over-the-Phone), described below.
Please specify whether you need state- or Federally-certified interpreters for court cases or depositions.
What you get to ensure your success:
Matching interpreters to the subject and the languages of your meeting;
Providing professionals in North America or throughout the world;
Discussing your project with you to help you meet your needs within your budget and timeframe; and
Determining your most cost-effective equipment solutions (whisper transmitters or sound booths) for seminars or conferences.
For court cases or legal depositions, providing court-certified interpreters in many languages nationwide.
PLUS a 95% success rate working miracles– finding skilled professionals with just a few hours' notice (although we do appreciate it when you don't make us gray).
CLIENT-FACING INTERPRETING


If your company, agency or organization has non-English clients or employees with whom you need to interact most every day — or if you communicate with deaf or blind people — check out the Instant Language Assistant. The ILA can transform operations for government agencies, hotels, tourist sites, schools, construction sites, telemedicine and many more sectors.
OPI: OVER-THE-PHONE INTERPRETING
NEED to TALK NOW to a NON-ENGLISH SPEAKER?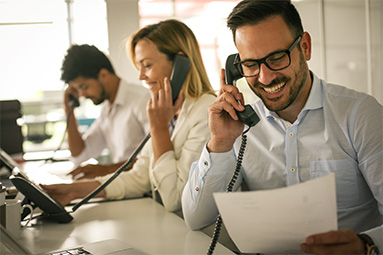 Don't let the lack of a common language stop you. With our phone language interpretation services, you can communicate easily and accurately…in over 100 languages!
Speak to non-English prospects to explain your needs.
Speak to limited-English customers to clarify your message.
Negotiate or seal a deal.
As a global interpretation company, ImagineLingua is proud to connect you by phone instantly to highly skilled, professional interpreters, trained in a wide range of topics. Our service puts trained interpreters literally at your fingertips — 24 hours per day, every day of the year, in more than 100 languages and dialects ­­– for more accurate, efficient communication.
Focused on you and your clients' needs
Precise communication cannot be overlooked. Understanding what a client or colleague is saying helps to ensure that everyone is fully informed and can make wise, cost-effective decisions. This helps put the people with whom you are working, serving or negotiating at ease, allowing them to speak to you in their own language through a highly skilled third-party phone interpreter.
Special requests, at your service
Sometimes you prefer to talk with a female or male interpreter on gender-sensitive topics such as healthcare.
We pride ourselves on delivering a superior level of language interpretation service, customized to fit your needs and preferences. If you or your end-clients have a special request, please let us know. We will work to accommodate it at no extra charge.
All calls are totally confidential and are HIPPA-compliant.
Simple, secure, reliable
Instant phone access to trained, professional interpreters.
Service 24 hours per day, every day of the year.
Interpreters located mostly within the United States and familiar with American terminology.
Clear, no-hassle billing at competitive rates.
Free support for customized requests.
Free training of your staff on the use of our services.
A component toward compliance with federal requirements mandating access to interpreter services in specific industries.
Satisfaction guaranteed
All interpreters are highly screened and trained, and we are extremely confident of their capabilities. That is why we offer a full satisfaction guarantee. If you feel that an interpreter has not performed acceptably, please inform us promptly and there will be no charge.
Very inexpensive rates and ImagineLingua will bill you monthly. Please call to discuss large-volume discounts.
A small monthly Admin fee will apply –ONLY if you use the service.
Thank you. Happy talking!